Kansans for Smart Justice is a diverse coalition of civil rights, community improvement, social service, and faith-based organizations. Visit www.smartjusticekansas.org to learn more.
The criminal justice system in Kansas is broken and urgently needs reform. It costs too much, needlessly incarcerates too many, works against those trying to make a fresh start, and is permeated by racial disparity.

Now is the time for common sense, bipartisan reform. Reforming our broken criminal justice system is not a partisan, ideological, or political issue. It is an issue that impacts all of us.

That's why a diverse and unprecedented coalition of civil rights, community improvement, social service, and faith-based organizations has come together as Kansans for Smart Justice.  On February 29, 2016, the coalition launched in the Old Supreme Court Chamber at the Kansas Statehouse and unveiled a comprehensive package of reforms that will help fix this broken system. Read more about the launch event here.

Kansans for Smart Justice envisions a criminal justice system that reduces the number of incarcerated people, uses taxpayer dollars wisely, invests in safe and strong communities, and respects the rights of all who come into contact with it.

Our agenda includes:
Expanding the use of diversion. Diversion is a tool that allows individual that are being charged with non-violent crimes and have a minimal criminal record to avoid criminal charges if they follow a prescribed program. This can reduce and contain costs while also best serving the interests of public safety, communities and individuals needs.
 
Reducing sentences for non-violent drug crimes. Drug offenses are far and away the biggest contributor to admissions in Kansas' prisons. Kansas adopted a forward- thinking drug policy in 2003, requiring mandatory treatment rather than prison for first-time drug offenders. Recent changes to the state sentencing guidelines mean that subsequent offenses carry outrageously high prison sentences. For many of these crimes, the Kansas sentencing guidelines are harsher than those in the federal system. The Legislature should reduce sentences by de-felonizing some drug possession offenses, a step already taken by fifteen other states including South Carolina, Utah, and Wyoming.
 
Improving reentry and recidivism prevention services. Kansas lacks adequate services, inside and outside of correctional facilities, to assist individuals in re-entering the community after completing their sentences. These services are essential to help individuals transition back into community life, have a second chance, and prevent recidivism.
 
Reforming civil asset forfeiture laws. Kansas law currently allows law enforcement agencies
to permanently seize citizens' property based solely on a suspicion that it was involved in criminal activity. To better protect the rights of Americans, Kansas law should be amended to require a conviction on a relevant criminal charge before assets are forfeited.
Read more about our agenda here.
 
Kansans for Smart Justice Coalition Supporters: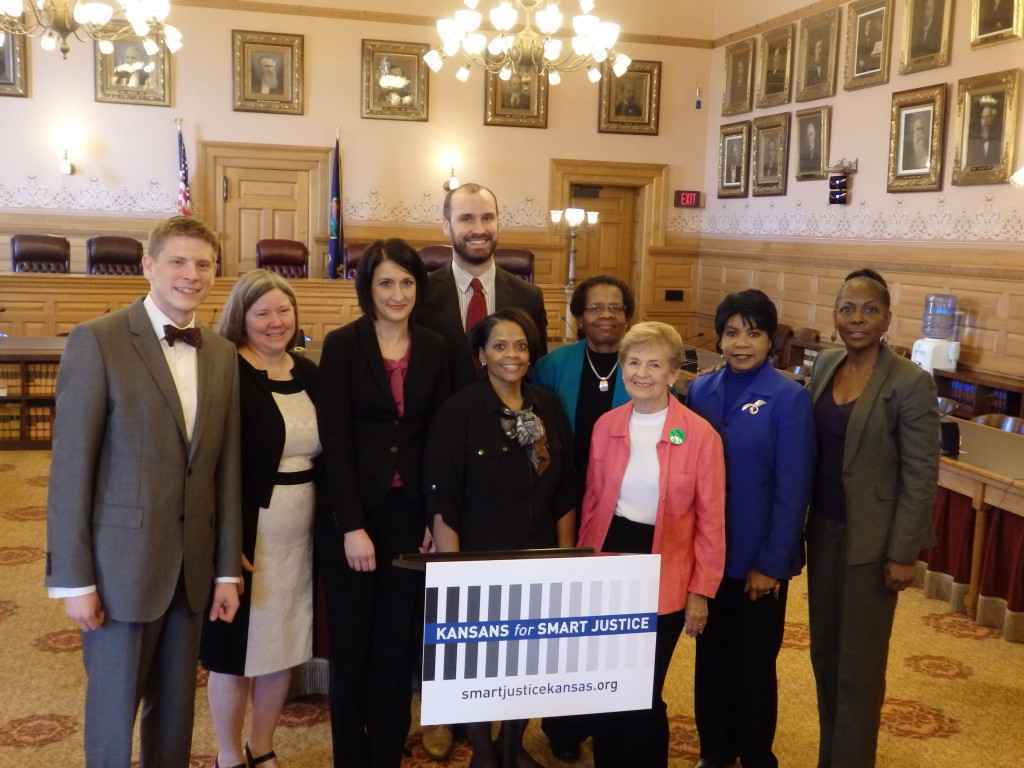 Kansas Communities for Reform
To be part of this exciting coalition to fix our broken criminal justice system, please contact us!
 
News Coverage
"Advocates speak out against criminal justice system", 13WBW, 02/29/2016
"Kansans for Smart Justice Calls for Criminal Justice Reform", wibwnewsnow.com, 02/29/2016
"Kansas coalition pushes for criminal justice reform", The Washington Times, 02/29/2016
"Civil rights groups urge Kansas criminal justice reform measures", Lawrence Journal-World, 02/29/2016
"Kansans for Smart Justice pushing for criminal justice reform", Topeka Capital-Journal, 02/29/2016