The justice system in Kansas imposes thousands of dollars in debt on youth and their families–debt that many Kansans can't afford to pay.
Our coalition is pushing for #DebtFreeJustice in Kansas as a part of a national campaign to abolish the debt that destroys futures for our kids.
---
A report by the National Juvenile Defender Center found that Kansas levies numerous fines, fees, and costs against young people and their families, which cover "virtually every interaction with, and service ordered by, the juvenile court."1
In addition to the fines assessed by the courts, Kansas youth are assessed a litany of fees, including booking fees, lawyer fees for "provided" representation, program fees for probation or diversion, and ongoing drug testing that can cost up to $50 and be administered up to several times a week.
These fines can total over $10,000—and if you're not able to pay, the consequences are severe. This can obliterate a family financially or hamper a child well into adulthood.
---
States across the nation are recognizing that fines and fees have to go.2
Our coalition and supporters want Kansas to be one of them.
---
Not only do these fines and fees crush our families and kids, but debt-based punishment pushes people further into the criminal-legal system by creating hurdles to building a better future.3
Sadly, these hurdles disproportionately affect people of color, who as a group are not only more likely to get arrested, detained, or charged with a crime, but also get charged more in fines and fees than white people in similar circumstances.
Per #debtfreejustice, "the higher the financial charge, the more likely a youth is to end up back in the system."
---
Fines and Fees hurt our kids, hurt our families, hurt our communities, and do nothing to stop crime.
We're working together to make them a thing of the past.
---
The Debt Free Justice for Youth Act would eliminate fines and fees for all youth ages 25 and under. A coalition of justice-focused organizations and directly impacted, system-involved youth are working to make this a reality. And we're not alone: groups across the ideological spectrum agree we need to end the assessment and collection of fees and fines for young people in the justice system.4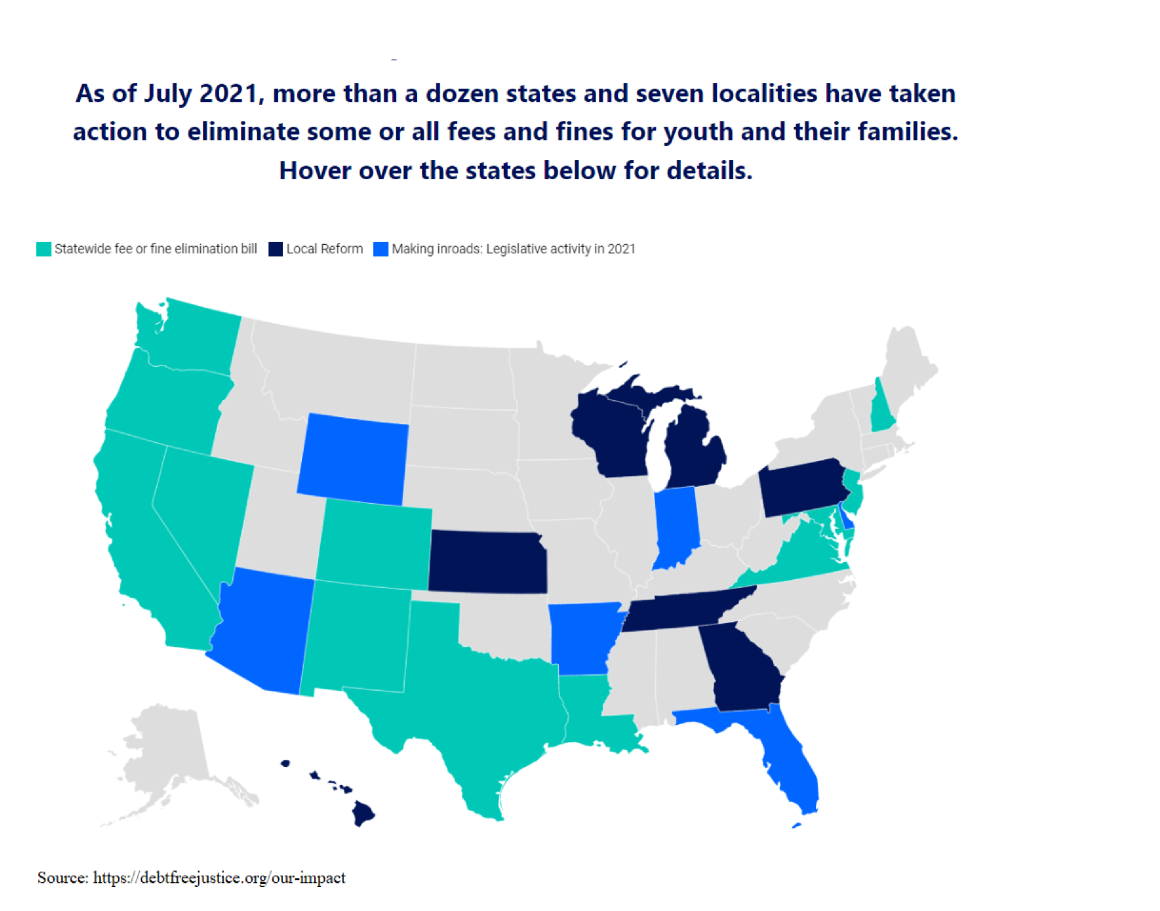 Fines and fees do nothing to help rehabilitate those in the justice system; in fact, they do the opposite, and enforcement is expensive for state and local governments. We want to eliminate them for better outcomes for our kids and our communities—join us in supporting the Debt Free Justice for Youth Act.
---
1 Nat'l Juv. Def. Cntr., Limited Justice: An Assessment of Access to and Quality of Juvenile Defense Counsel in Kansas  at 61 (Oct. 2020), https://njdc.info/wp-content/uploads/Kansas-Assessment-Web.pdf
2 Alicia Bannon, Mitali Nagrecha, and Rebekah Diller, Criminal Justice Debt: A Barrier to Reentry, Brennan Center for Justice, 2010, 30, http://www.brennancenter.org/sites/default/files/legacy/Fees and Fines FINAL.pdf
3 https://debtfreejustice.org/our-impact
4 https://debtfreejustice.org/problem