FOR IMMEDIATE RELEASE
OVERLAND PARK, KS - The ACLU of Kansas has asked a federal court judge Friday to reject Ford County Clerk Debbie Cox's motion to dismiss a lawsuit filed against her office and to require her to open additional Dodge City polling places and abandon her use of the Western State Bank Expo Center for election purposes.
"We aren't asking for the moon," said ACLU of Kansas Legal Director Lauren Bonds. "Our plaintiffs need, deserve, and are legally entitled to, an accessible polling place, in town. That's more than reasonable."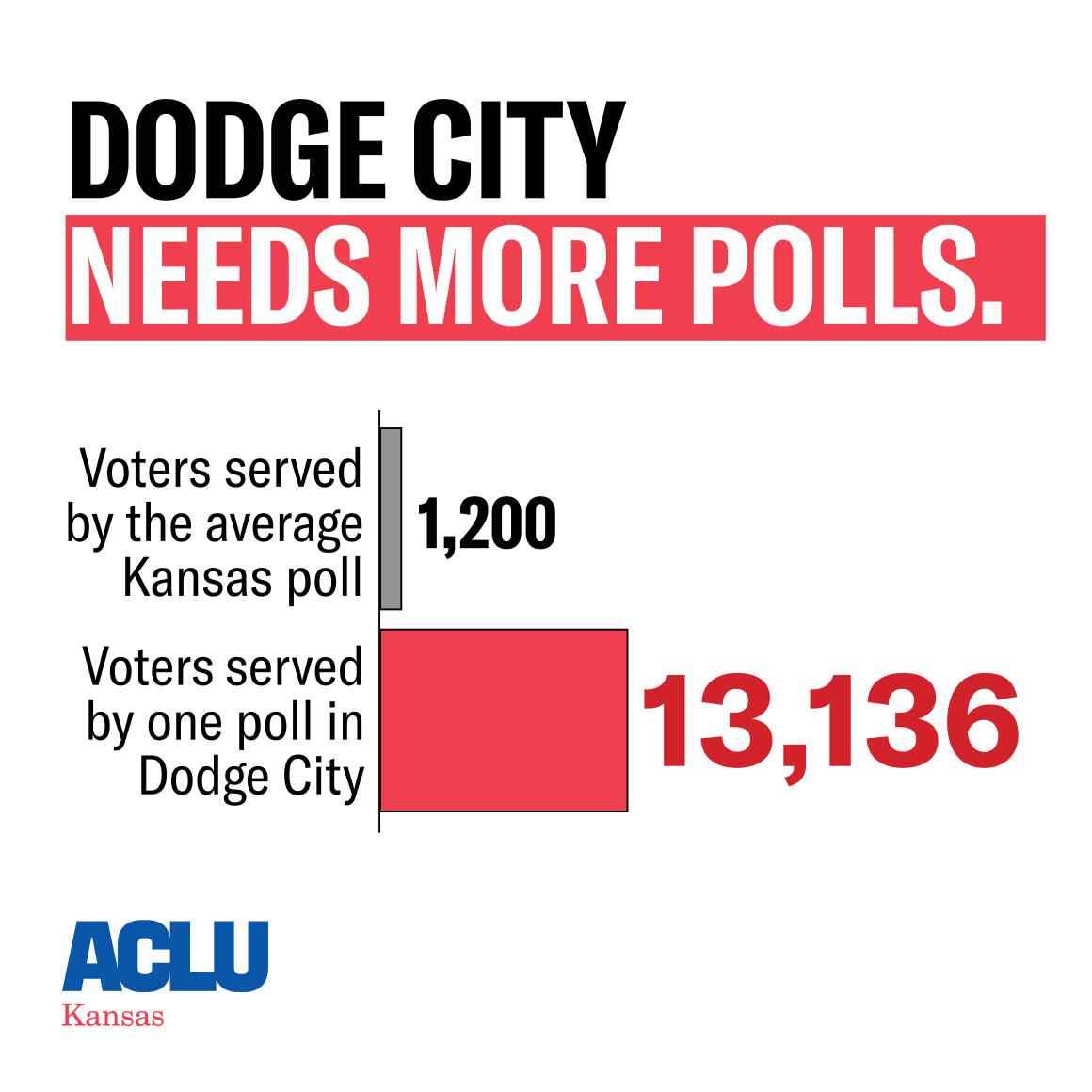 The ACLU of Kansas filed suit against Cox in October on behalf of the League of United Latin American Citizens (LULAC) and Alejandro Rangel-Lopez, arguing that Cox's insistence on a lone polling location a mile outside Dodge City for 13,136 residents violated the Constitution and the Voting Rights Act of 1964.
The plaintiffs seek declaratory relief and a permanent injunction against Defendant's maintenance of a single polling place in Dodge City and the continued use of the Western State Bank Expo Center.
"Cox's unilateral decision converted Dodge City residents' already inconvenient voting experience into an unmitigated burden on their fundamental rights," Bonds and the ACLU of Kansas said in the filing. "The Expo Center is over an hour walk from the nearest bus stop and the polling location. It is totally unacceptable as (a) voting location for any voter who lacks personal transportation, and there are many voters in Dodge City who lack personal transportation."
"Cox's decision was as baseless as it was burdensome."
Bonds said the issues at the center of the ACLU's lawsuit didn't dissolve after November's election.
"The Ford County Clerk argues the case is moot because the November election is behind us, overlooking the broader – and more troubling issues," she said. "In filing this motion, (the Defendant) seeks to insulate her unlawful placement of polling locations from review by voluntarily pledging but not promising, to open another polling location by 2020."
Cox and her Wichita-based lawyer Brad Schlozman, who declared a 45-minute wait to vote, "insignificant," are trying to engender trust in the Ford County Clerk's office, but much of what she's done has only raised doubts about her ability and willingness to do her job.
"Many of the steps (Cox) cites as evidence of her sincere intent to redress Plaintiff's complaints were taken by the city of Dodge City," and not by her office, the ACLU argued in its response.
The ACLU adds later, "(Cox) has committed to nothing. She has promised to do nothing. She only points to ephemeral 'plans' for a new polling place, and then only when the next 'large volume election takes place.'"
In a previous decision in this ongoing case, Judge Daniel Crabtree noted that not only did Cox fail to respond to correspondence from constituents and their advocates, it appeared that she didn't bother to read it. Her derisive, "LOL," email response to a government colleague also concerned him, he said.
Rather than work with her constituents, she hired a lawyer and now seems poised to hand the legal bill to those same aggrieved constituents.
  # # #
About the ACLU of Kansas: The ACLU of Kansas is the statewide affiliate of the national American Civil Liberties Union. The ACLU of Kansas is dedicated to preserving and advancing the civil rights and legal freedoms guaranteed by the United States Constitution and the Bill of Rights. For more information, visit our website at
www.aclukansas.org
.