Plaintiffs in a voting rights action against Ford County Clerk Debbie Cox have filed a voluntary motion to dismiss their lawsuit in U.S. District Court following Cox's announcement of two new, Dodge City polling locations, the ACLU of Kansas announced today.
Pending court approval, the move to dismiss may bring a costly and bitter dispute which grabbed national headlines, to an amicable conclusion.
"Our clients appear to have secured the polling sites they sought, so we really hope this is the end of this lawsuit," said Lauren Bonds, interim executive director of the ACLU of Kansas and the organization's legal director. "We are thrilled for our clients and for the entire Dodge City community, which will benefit from greater voter access. Everyone wins."
Cox announced Tuesday that she'd open two new, in-town sites: one at the Hoover Pavilion, 108 4th Ave., and the other at the Knights of Columbus Hall, 700 W. Frontview St.
The voluntary dismissal allows the plaintiffs, The League of United Latin American Citizens, Kansas (LULAC), and Alejandro Rangel-Lopez, to refile a claim if sufficient progress isn't made on the promised poll sites, Bonds said.
"We couldn't imagine a reason to oppose the voluntary motion if the plan is to actually open the new sites," Bonds said. "Prolonging this case only drives up legal fees," she said.
Cox and Ford County have spent $90,000 and counting on legal fees from October through December. The January legal bill has not yet been announced.
This legal battle began nearly two years ago when Dodge City residents approached Cox about unequal voting access. The city has about 13,000 registered voters but only one voting location.
Then last year, Cox moved that lone polling site outside the city limits for the Nov. 6 midterm election because of planned construction at the original site. The move provoked criticism from constituents who contacted the ACLU of Kansas when they felt their complaints were not being addressed.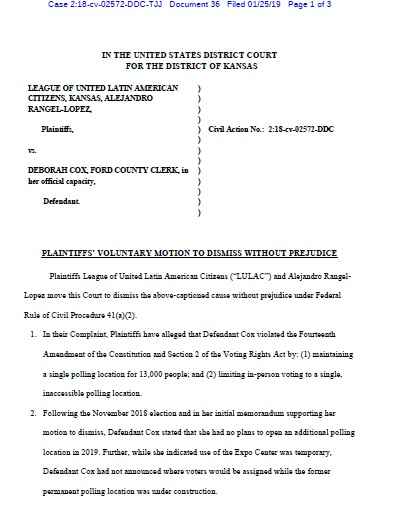 The ACLU of Kansas alleged in a lawsuit that voters, particularly the Hispanic electorate, were being disenfranchised. More than half of Dodge City's population is Hispanic.
"We are so proud of what our clients accomplished," Bonds said. "They fought for greater voting access, they bravely persevered, and won. Everyone wins when all citizens have equal voting access."