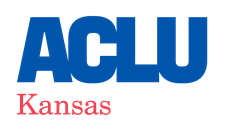 Wyandotte County District Attorney Mark Dupree argues in inaugural guest post that his county would benefit from the establishment of public defender office.
FOR IMMEDIATE RELEASE

Dec. 11, 2020

CONTACT: Mark McCormick, Director of Strategic Communications, 913-490-4113, [email protected]
OVERLAND PARK, KS - The ACLU of Kansas has launched a new blog aimed at elevating critical criminal justice reform issues including but not limited to expanded resources for public defenders.
"At the ACLU of Kansas, we believe the road to change runs through a host of reforms, not the least of which is a reimagined public defense system," said ACLU of Kansas Executive Director Nadine Johnson. "This blog – The Stone Catchers – will highlight the stories and ideas of those committed to real, systemic reform in our state. It is a platform for sharing ideas and for uplifting stories, for identifying issues and for offering solutions."
Wyandotte County District Attorney Mark Dupree penned the initial blog for the site (https://www.aclukansas.org/en/news/stone-catchers-blog), calling for the establishment of a public defender office in Wyandotte County. Such an office offers clear advantages, Dupree said.
"Lawyers in an established public defender office would have the advantage of practicing law in this sphere daily, they would have resources private practice lawyers simply do not have, and it would remove appearances of impropriety tied to the judicial appointment of lawyers and lawyers rushing through the process to receive payment."
The blog's name, "Stone Catchers," comes from Equal Justice Initiative founder and Just Mercy: A Story of Justice and Redemption author Bryan Stevenson. 
Reform, Johnson said in the press release, means taking real action, shielding others from the stones we throw at people trapped in the system.
"We all have stones to catch," Johnson said.
Upcoming guest blogs will feature varied voices in the call for genuine, effective criminal justice reform. Initial topics will include the need not only to expand the number of public defender offices statewide, but to provide those offices with pay and resource parity. Prosecutor offices enjoy tremendous advantages in salary, staff support and investigatory resources.
###
About the ACLU of Kansas: The ACLU of Kansas is the statewide affiliate of the national American Civil Liberties Union. The ACLU of Kansas is dedicated to preserving and advancing the civil rights and legal freedoms guaranteed by the United States Constitution and the Bill of Rights. For more information, visit our website at www.aclukansas.org.